I am an unabashed Godzilla fan and have been for as long as I can remember. Throughout the decades there have been ups and downs in the quality of the Godzilla movies, but my love for the guy has never waned, whether he was a good guy or bad. There is something joyful, perhaps whimsical about giant monsters duking it out amidst a backdrop of a crumbling cityscape with no care for how much destruction is caused that speaks to the inner child in me playing with miniature toys. And before anybody thumbs their nose in blockbuster snobbery, consider the appeal of the Jurassic Park films and Superhero films that promise just as outrageous premises.
The first attempt at an American adaptation of the iconic monster was the dismally received 1998 version. It wasn't until 2014 that another version would be made with more active participation from Godzilla rights owners Toho. It received more positive reviews and as far as I was concerned it was indeed a genuine Godzilla film with the exception that it centered too much on the human drama and not enough on Godzilla itself. But it was successful enough that a sequel would be on the way.
Since 2014's Godzilla director, Gareth Edwards was unavailable due to working on Star Wars: Rogue One, horror director Michael Dougherty (Trick 'r Treat, Krampus)was brought on board. Michael Dougherty was himself a huge fan of Godzilla. He was not only offered to the chance to direct a Godzilla sequel but to direct one that featured multiple monster from the Toho stable of monsters. These monsters would be Mothra, Rodan, and King Ghidorah. Needless to say, he jumped at the chance and we are all the better for it.
It's not often a sequel tops its previous film but Godzilla King of the Monsters does that by embracing its kaiju movie roots and treats the audience to jaw dropping scenes of giant monsters wrecking havoc while fighting each other. Although much of the battles take place in murky or dark conditions, it is never so dark that you can not make anything out.
The plot is clunky to be kind. But if you were to compare it to any other plot of a Japanese Godzilla movie in the last fifty-plus years of Godzilla films it is serviceable. Five years have passed since Godzilla left San Francisco in ruins and since then he has not been seen. Monarch, the not so secret monster hunting organization, has been tracking and containing other kaiju, or titans as they are called. There is conflict with the government as to whether to destroy these creatures or keep them alive.
Emma Russel (Vera Farmiga) is a researcher for Monarch and has developed a device called an Orca (this is the McGuffin of the movie) that has the ability to tune into the frequency of the titans and potentially control them. She puts this device to good use at the hatching of Mothra , one of the titans under Monarch observation. Suddenly the base is attacked by eco-terrorists led by Alan Jonah (Charles Dance). Mothra is set loose, Emma and her daughter (Millie Bob Brown) are taken. Ostensibly, the idea is to release the other titans to bring balance back to the world since humans are responsible for more global devastation than the titans. I guess that involves killing billions? ¯\_(ツ)_/¯  It's a bit of a Thanos solution, but whatever.
Kyle Chandler plays Emma's ex-husband, Mark who was once also a Monarch member, becomes involved with Monarch again after his daughter and ex-wife not only are taken but so is the invention she created. His motivation is getting his daughter back. Seriously the family dynamic theme from the last film did not work great the last film and it doesn't work now.
The saving graces of the weak plot and the script is the talent of the actors who all do well at selling material that is not so stellar. Reprising their roles from 2014's Godzilla are Ken Watanabe as Dr. Serizawa and Sally Hawkins as Dr. Graham. Look also for Zhang Ziyi playing not only a mythologist that researches the legends that are the historical basis for the titans.
Make no mistake who the real star of the film is. Godzilla is the centerpiece to this saga and is without a doubt a force of nature as he and Ghidorah, the three headed titan have been eternal rivals since the beginning of time. Throw into this stew of monster mayhem supporting action by Mothra, Rodan, and several surprise originals, and you have a kaiju tag-team match of epic proportions, leveling cities across the globe. But this is a showcase for Godzilla, and in this he is not just a force of nature or balance as in the last movie, he must save the planet.
Every single one of these monster look amazing as each has their unique personalities and quirks. It's not guy in a rubber suit, but it does use motion capture animation which really adds a sense of…uhm…realism to the fight scenes. The titans are rendered with incredible detail not only to their giant bodies, but also their facial expressions convey emotion beyond that of a a raging creatures. Ghidorah, which has three heads, each have their own personality (they don't always get along either). And this Ghidorah is one huge motherfucker. Rodan is pure menace from the moment it emerges from a Mexican volcano, emitting lava from its body. Its aerial combat against a squadron of jets one for the ages. Mothra, who has always been a bit of a silly monster for me is absolutely majestic in this movie and is possibly one of the best representations of the moth-like kaiju ever.
There are elements of eye popping scale that include the monsters against cities buildings but also from the viewpoint of humans on the ground. It makes them truly imposing and massive. The sheer level of destruction is apocalyptic in its imagery and is almost biblical in its fearful imagery.
Another star of this film is one that does not appear on screen but makes its presence known with its own monstrous presence and that is the epic orchestral score by Bear McCreary (Battlestar Galactica, Outlander). I've long been a fan of McCreary's work since Battlestar Galactica and he tackles the score with nods to the some of the famous Toho themes by Akira Ifukube while adding his unique ability to incorporate music from around the world such as taiko drums, Buddhist chants, and a chorus in Ancient Babylonian. The cherry on top of this is a cover of the classic Blue Oyster Cult song "Godzilla."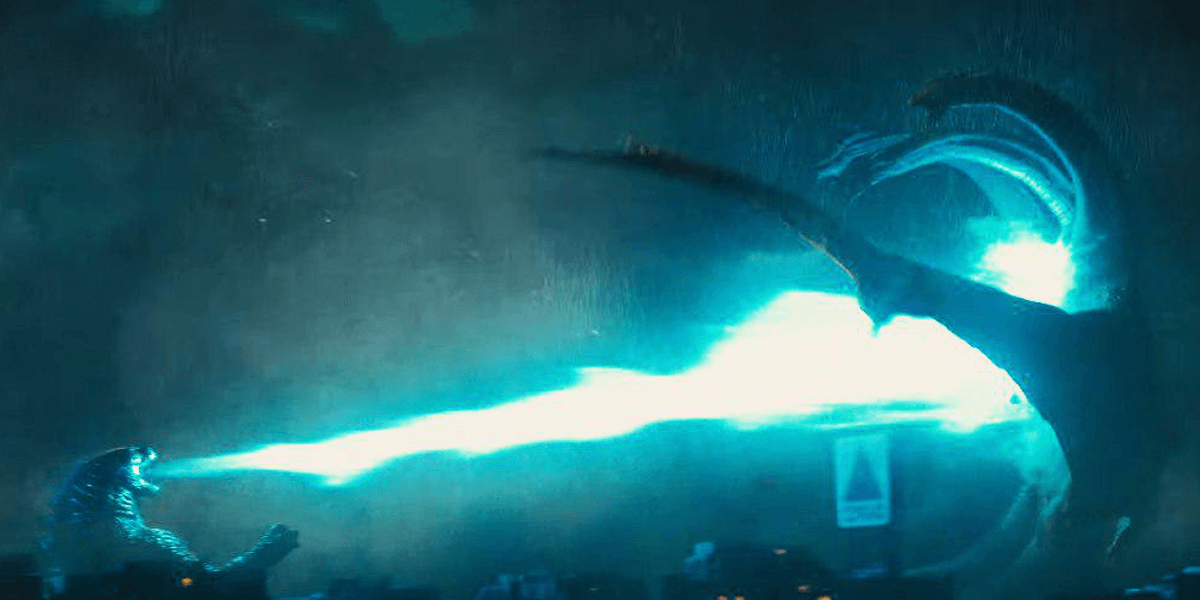 In the end, Godzilla: King of the Monsters is a magnificent triumph of special effects monster action and battles. It manages to rise above a fairly dismal script filled with a few character with heavy plot armor (seriously Millie Bobby Brown's character should have died several times over). But the real reason one sees a Godzilla movie is for the action, destruction, and monster versus monster action and this movie delivers on that promise. It lays enough seeds for the upcoming Godzilla vs. King Kong match-up next year.
The most positive thing I can say about the story is that it does a better job of diving into the lore and mythology of the titans. Much of this is handled by Zhang Ziyi who has a surprising connection/homage to the classic Toho era. It does provide perspective and if you are like me love world building, it's very informative. They try to do some other science exposition but that just doesn't hold up.
This is a movie that is clearly made by a Godzilla fan and for Godzilla fans. It is an absolute love letter to fans and I believe it elevates it to classic status. The film's only shortcoming in in some of the plotting, but it is an absolute blast of a film. The action is above top-notch and is filled with stunning iconic moments. If you are already a fan of Godzilla films, this is the one to see on the biggest screen possible. Highest Recommendation
Final score: 9/10
PS. Why do soldiers continue to think shooting regular guns at giant monster do any good?