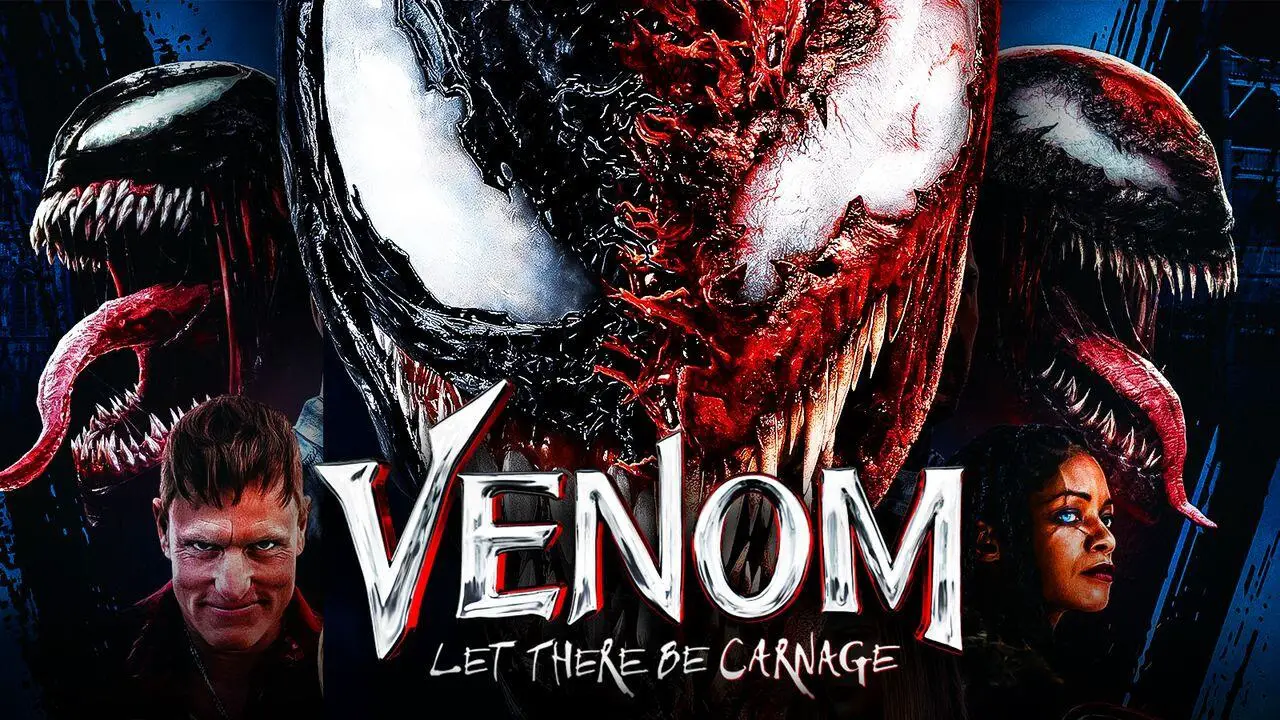 Low Brow and Low Tier
I'm not super familiar with the Venom character in the comics nor have I ever been particularly drawn to it. Sure, that doesn't belay the fact that Venom is an extremely popular character in Marvel Comics and that its first film (if we ignore Spider-Man 3) was a surprise hit.
The first one was mildly entertaining and had some funny bits. The sequel, Venom: Let There be Carnage continues in that vein. It's entertaining, has some funny bits. But ultimately it's dumb, silly, and it's trash. It's basically what comic book movies used to be but just better made. It fall short of the mindless cinematic fun of the last few Godzilla films.
When Let There be Carnage begins, we are introduced to a young Cletus Kassady who is voiced by Woody Harrelson, but played by another actor. He and the girl he loves, Francis, are residents of St. Estes Home for Unwanted Children (yes, that really is the name). Frances is being taken away to the Ravencroft Institute because her "mutation" is getting worse. This makes Kassady sad and will later motivate what he does for the rest of the film.
We skip forward to the present to the present day as we see Eddie Brock has not improved himself since the last outing and is engaging in perpetual bickering with his symbiote. He is still an out of work journalist, and not even a very good ne at that. He's given the opportunity to interview death row inmate Cletus Kassady, a supposedly dangerous serial killer, for no other reason than Cletus asked for him, not because he's any good. Detective Milligan, of the SFPD thinks, that it would help reveal the location of other bodies. Brock needs the work hoping he can sell the story somewhere, and obviously Cletus is using Eddie to code headlines and quotes as a message to his old flame, who he doesn't even know is even alive.
There are indeed clues as to where the notorious killer buried other bodies, and in true Hollywood fashion, they are hidden in plain sight for everyone to see. Except it is Venom who is able to piece the clues together, thus allowing Eddie to take the glory. Who these other victims are, and why they were killed, we are not told. Conveniently, after bodies are discovered, the governor lifts the moratorium on the death penalty and good ole Cletus is on a fast track to execution. This upsets him mightily for in a subsequent interview with Eddie, Cletus takes a bite out of Eddie, drawing blood. Yeah, you saw in in the trailer "I have tasted blood before, and that is not it." So in a sort of reverse vampirism, Cletus has a bit of the symbiote in him. Just as he is near death, the symbiote manifests in him and becomes…CARNAGE. Prison wackiness ensues, including the ability for all the prisoners to just leave their cells for whatever reason. Bodies pie up in a bloodless PG-13 rampage of violence.
Meanwhile, Eddie and Venom's bickering gets to comical levels as Venom throws Eddie's things out the window, including his TV, telling him to get out. All the while Eddie saying, this is my home. Yeah, this is the major breakup scene in the movie usually between married couples.
But we know how this goes. Boy meets symbiote, boy and symbiote break up, boy and symbiote gets back together. There is a scene of Venom, in his natural form, going to a costumed rave where people just love his "outfit" and accept him for who he is. The icing on this particular metaphorical cake comes when Venom goes up to the entertainment's mic and proclaims his "I don't need that man in my life" moment. And there is much rejoicing.
Kassady makes a deal with the Carnage symbiote. He wants to find his old lover and Carnage wants to kill Venom. They figure it's a win win situation. They easily find Frances and free her from the institute, not without leaving a trail of bodies in their wake, however. In a PG-13 version of Natural Born Killers, they gleefully make out while killing people.
This could be quite a deadly trio, except that Frances's "mutation" is a deafening shriek. In fact, that is her character in Marvel comics. But for the symbiotes, loud sounds and fire are their weaknesses. So not exactly a match made in heaven.
There is little to fault the actors. They are simply doing their best with the thin material that they are given. Tom Hardy is a likeable enough Eddie Broke, but Eddie himself is not very smart or good at anything he does. I think Woody Harrelson's performance as Kassady works only because he pulls his crazy Woody act which we have all seen many times before. The biggest tragedy was the wasted character of Frances "Shriek" Barrison as portrayed by Oscar nominated Naomi Harris. Much of her character is relegated to just being in her cell making menacing eyes at her captors. Michelle Williams as Eddie's ex girlfriend is given even less of a significant role other than damsel in distress, who really should have been killed several times over if you can believe the villains. Seriously, my favorite character is the corner store owner, Mrs. Chen, played by Peggy Lu. She has some actually funny lines and displays more authentic personality than the rest of the characters.
As with a majority of comic book movies, the last act of the film is an indulgent all you can eat buffet of CGI and loud noise. It is handled as well as could be expected, but also as badly as can be expected. It is many times dark, confusing and extended longer than it needs to be.
The best reason to watch this, unfortunately, is to see the mid-credits scene which made the whole 90 minute runtime worth it as it is a significant twist to…well, everything. But other than that, the movie is a fun romp that is an easy 90 minute distraction for a matinee or rental. The plot is thin, and relies on too many unfunny lines. We really get no sense of any real characters, especially Cletus Kassady who is supposedly some notorious serial killer, but his back story is only given to us in a cartoon form.
Final Verdict:
7/10